Local. Trusted. Family Owned.
House Washing Lewiston, ME
Top-Rated House Washing
in Lewiston
Goodbye to dirty exteriors! Bring back your home's shine, value, and curb appeal with professional house washing services from Western Maine Pressure Washing.
Western Maine Pressure Washing can help you get a professional and thorough cleaning for your home. We're proud to provide all exterior maintenance services in Lewiston, ME. Our services cover pressure washing, house washing, siding washing, and vinyl washing services.
Exterior pressure washing protects your investment in the value of your home. And hands down, the safest and most effective way to clean and protect your home's exterior is to hire a professional. 
At Western Maine Pressure Washing, we use top-quality equipment and have years of experience providing customers with the best service possible at reasonable rates. At Western Maine Pressure Washing, our exterior house washing service uses a technique that is hard to rival in the cleaning industry.
Searching for Lewiston
House Washing Near Me?
Not only does our house washing service clean your home's facade, but with many stains like mildew and hard water–it also has a protective effect that helps prevent the development of mold and mildew on siding. Because grime and dirt on vinyl are such a problem, you want to get it cleaned before it sticks on there for good and becomes harder to remove.
West Maine Pressure Washing services are guaranteed to remove dirt and grime from almost any surface. We are experts in removing moss, mold, and mildew from roof shingles and gutters. We use only the safest, most effective products – free of chemicals and toxins like bleach – to clean and strip away old coatings on roofs and just about anything outside your home.
Save money and more time by allowing Western Maine Pressure Washing to clean all the siding, windows, gutters, moldings, decks, and much more. Our pressure washing service has been doing work like this for over 20 years now. We save you time, effort, and money by taking care of everything from top to bottom, ensuring that your home always looks its best.
Your house is a big investment, and you take care of it just like you take care of your family members. You want to keep it in top condition, always. And over time, your house can show the effects of busy lives and bad weather.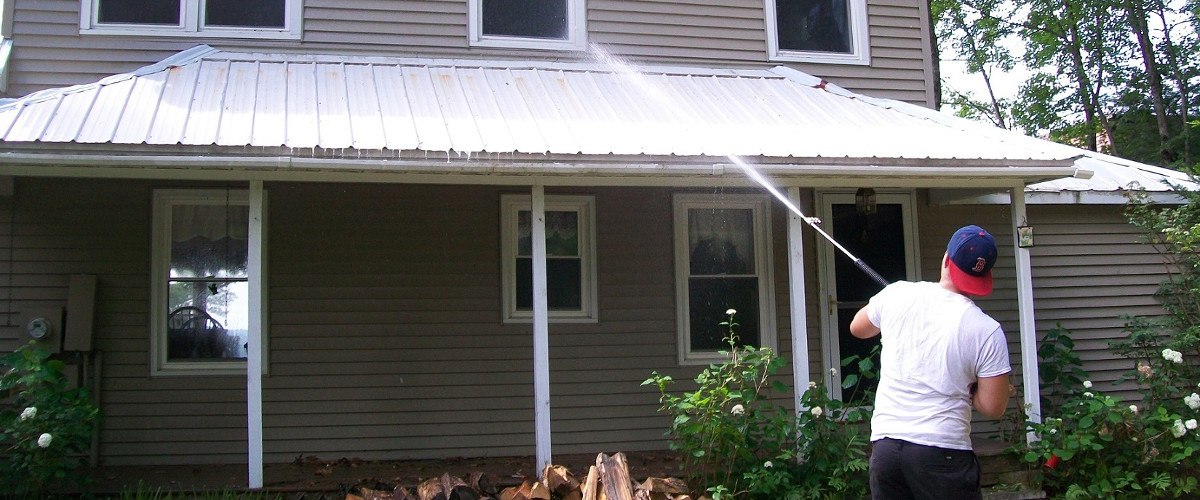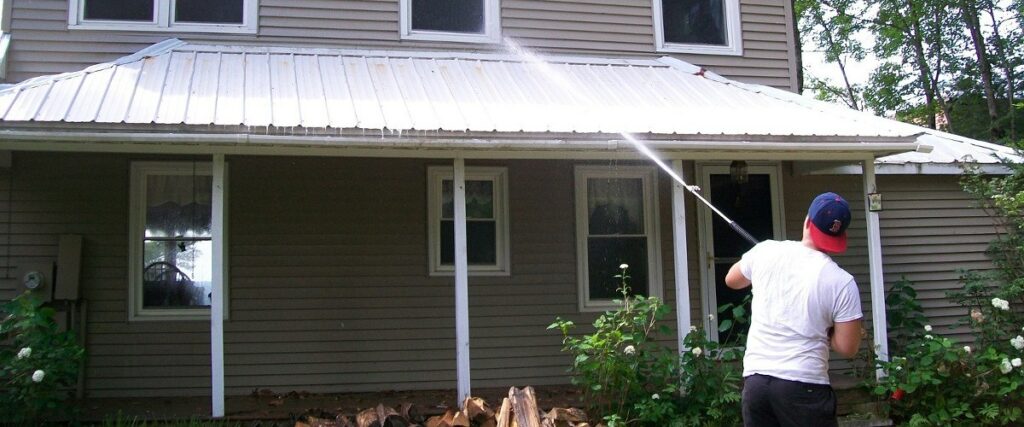 Local. Trusted. Family Owned.
Expert Exterior House Cleaning Lewiston Residents Trust
Call Today for
House Washing in Lewiston, ME!
Let us do the dirty work for you. Our professional and fully insured crew will wash your home or business to look its best and help maintain its value. Your sign will shine, your storefront will gleam, and even walls that are hard to access while you do your cleaning will be spotless in no time. 
Western Maine Pressure Washing aims to provide you with quality service, perfect every time. We work hard on all aspects of our business because we understand that pressure washing is only a part of the process; customer satisfaction is vital to completing our jobs. We can help you with pressure washing siding, driveways, basements, decks, or just about anything less than or above ground level. 
Lewiston is a city well-known for its diverse population and activities. You can find restaurants, recreational access to the Androscoggin River, walking trails, parks, and historical landmarks in addition to the numerous annual festivals it hosts, including the Liberty Festival, Emerge Film Festival, and Brew Fest.
Western Maine Pressure Washing is your best option for house cleaning services. We have a history of strong customer service and solid quality workmanship throughout the area. We take care of jobs of all sizes—one-off, seasonal or annual. After you let us choose the method and tools we need to do the job right, we will come out to your home to get started. Call us, and we can give you a free estimate that won't break the bank.